Scaling Bitcoin Payments (FREE)
Week 38: September 18, 2019
Every week we review BTC price drivers from last week and perform both sentiment and technical analysis to help forecast the future.
To see our asset reports covering BTC and ETH and all of our trade opportunities, subscribe now, your first month is FREE!
So far, our recommendations are over 80% accurate and we're getting better weekly.
We're also beta testing our trading platform where users can trade with zero tx fees and better than exchange prices.

If you're interested in becoming a beta user, fill out this form.
Week 38: September 11, 2019 - September 18, 2019
Bitcoin price this past week has drastically underperformed many altcoin including Ethereum (18%), Litecoin (11.18%) and EOS (9.47%). While Bitcoin has underperformed this week there have been several positive sentiment drivers so we issue a HOLD this week because:
---
Rating: HOLD
BTC Market Cap: $17.94B
BTC Price: 0.2% ($10,178.37 to $10,198.54)
BTC Active Addresses: -3.5% (807.98k to 779.63k)
BTC On-chain Transactions: 3.1% (338.91k to 349.43k)
Technical & Sentiment:
Bitcoin price is trending in a tightening range, wait for the breakout before entering

Sentiment continues to trend lower, similar to the action seen prior to the recent ETH breakout
Positive Price Drivers:
Developments in Layer 2 scaling solutions are bringing the necessary throughput to carry Bitcoins projected demand

By demand the CME is set to double the trading limit of Bitcoin Futures
Negative Price Drivers:
Bitcoin dominance is declining as altcoin pumps, a change of trend from the past 4 months where Bitcoin has been King

Bitcoin returns appear to be correlated to the S&P 500 and the returns this year may not be favorable
---
BTC Price Analysis:
---
On a macro level:
IF this happens, then we buy:
Bitcoin price correlation to Gold increases as the fear index increases

Global Central banks drive interest rates negative putting the global economy on edge
IF this happens, then we sell:
The US stock market declines with a high correlation to speculative safe haven assets like Gold and Bitcoin

Craig Wright signs the genesis block with real keys proving he is Satoshi Nakamoto
---
BTC Sentiment:
---
Price Drivers This Week:
A Faster Payment Method
Layer 1, the core protocol layer for Bitcoin transactions is old and slow. Developers have been working on Layer 2 scaling solutions built off-chain to make Bitcoin payments faster and cheaper, making global adoption easier. Most notably, the popular Cash App by Square will soon use Lightning protocol on Layer 2.
SegWit Spending Tops 50%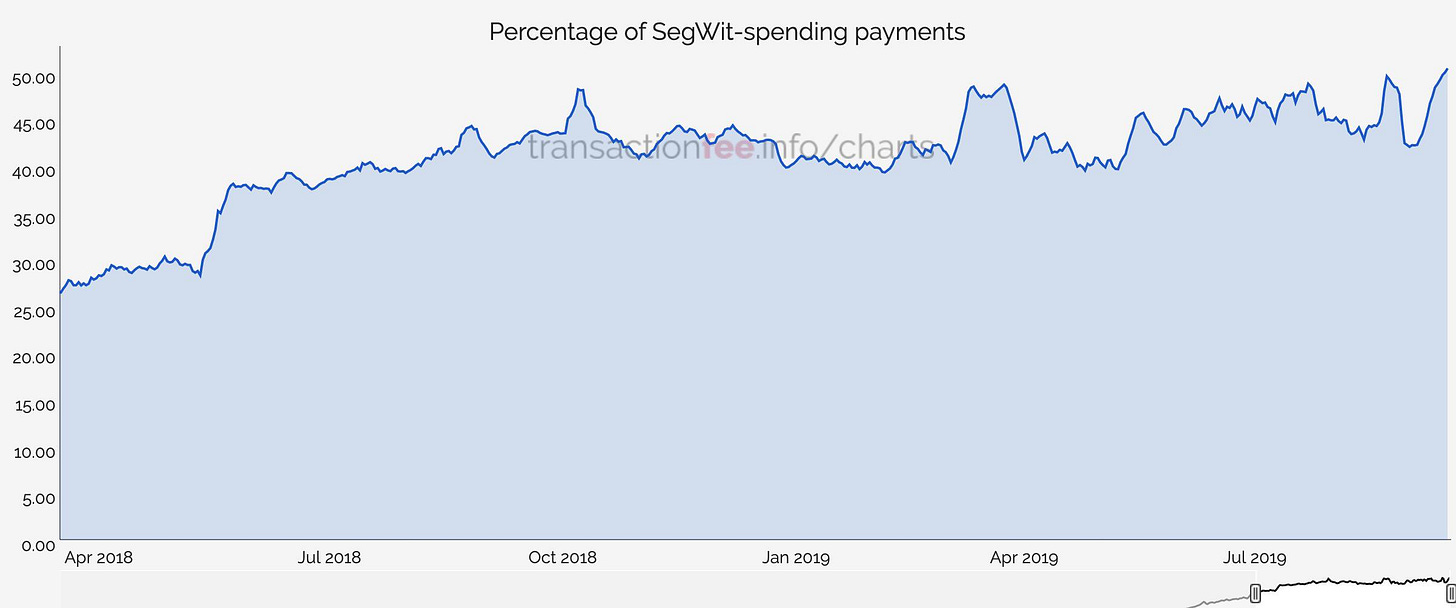 We now have proof that the mining reward from Segregated Witness (Segwit) actually makes up over 50% of all the payments made on the Bitcoin blockchain. Even the most optimistic Bitcoin miner realizes that it means almost $50 million is being wasted by miners every month. This is about a 30% revenue loss for the core developers which is a big deal. It also shows that these miners aren't happy because they have been trying to make Bitcoin profitable for over 18 months since the first Segwit activation.
This also means it is actually more profitable for core developers now since they are getting almost 2/3 of the coins that miners get for their hard work mining. Segregated Witness miners are just getting a little bit less than half of the entire mining reward, even though they put all their energy into a fork to fix a bug. The activation on segwit enables faster transactions by removing mathematical rules from the Bitcoin core protocol which some developers believe weaken the security of the network.
2017 SegWit is Old News…
Additional scaling solutions for the Bitcoin network beyond the 2017 SegWit activation is the launch of the lightning network. Currently, there are 9,867 nodes and 36,250 channels sustaining the network, channeling a total of 828.71 BTC across the world. SparkSwap has just launched a non-custodial bitcoin exchange on top of this network which allows for near instant clearing and no on-chain congestion. The creation of new tools on top of this young network are leading to positive speculation around the future adoption of bitcoin.
Not Just Lightning Network Though
Similar to the Lightning Network, Blockstream has launched their own Layer 2 scaling service mostly used by institutions named, Liquid Exchange Network. Crypto Exchange Bull Bitcoin has joined with Blockstream to offer liquidity solutions. The Liquid Exchange Network is able to transfer traditionally private digital assets privately on dark pools. Many were concerned about their activation of Tether USDT on the Liquid Exchange as providing liquidity without transparency could disrupt the traditionally public ecosystem.
---
The Decline of Bitcoin Dominance
Bitcoin dominance has declined from as high as 74% to a current 68% within days. This decline has been attributed to the stagnant Bitcoin while altcoins have rallied. While some are hopeful that altcoin season may come back, this relief rally comes after 93% declines from all time highs. For many coins, it would require an extreme - likely historic market move to the upside.
---
CME Seeks To Double Monthly Bitcoin Futures Trading Limit To 10K BTC
---
Those Black Swan Events are back again…
Kraken Trades from $8,000 to $12,000 in seconds, with no orders in between filling.
---
Bitcoins Remarkable Correlation to US Markets
---
Reminder that Bitcoin is NOT fully anonymous!
US Army Seeks Blockchain Experts Who Can Trace Bitcoin in Real-Time
---
What the top personalities on Twitter are saying:
---
That's it for the BTC weekly report from September 11 - September 18, 2019.
Subscribe today with your first month FREE and come back tomorrow for our Industry Special Report.